The Anticipated Day | Postcards from Rome 2022
Highlights from Week 2 (May 30 – June 5)
Wednesday, June 1st
– Arrival to Rome with a tour of St. Peter's Basilica after check-in at the beautiful Casa di Santa Brigida
Thursday, June 2nd
– Holy Mass at St. Peter's Crypt
– Visit the Roman Curia and Congregation for Clergy
– SCAVI tour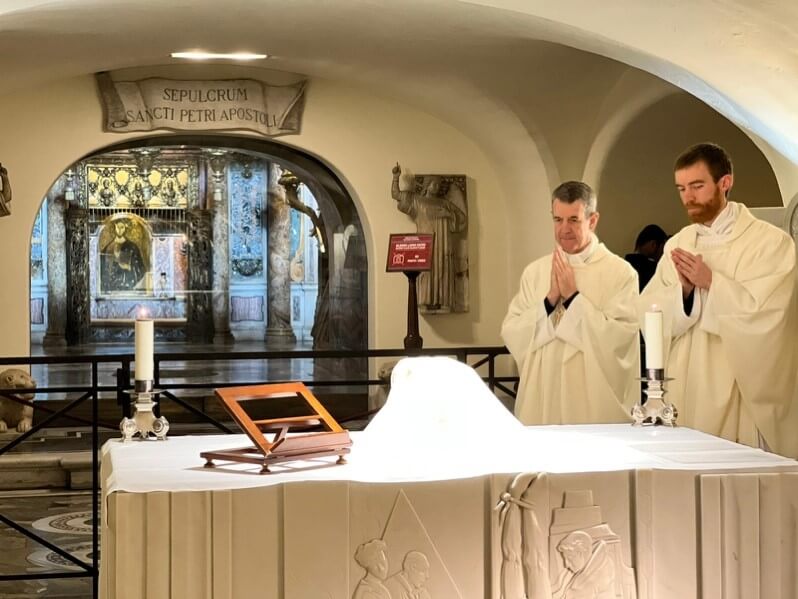 Friday, June 3rd
– St. Paul Outside the Walls Tour, Mass, and Lunch with Cardinal Harvey
---
We had such an amazing week, and it is hard to believe that we are only on our second one; so many things have happened!
We ended our silent retreat on Tuesday evening. It was full of spiritual insights and allowed us to reflect on the academic year that just ended and spiritually prepare for our experience in the Eternal City. It was a retreat full of prayer that helped me meditate more on the Real Presence of Our Lord in the Eucharist and how much Jesus wants us to receive His love in our lives.
Wednesday was the most anticipated day for me since last fall when my Vocations Director told me that I should apply for this program. We arrived in Rome by noon, and we got our first glances of the City of Martyrs while we made our way to Casa di Santa Brigida.
After check-in and lunch, we started our 'experience' with a tour of St. Peter's Basilica. It was truly overwhelming to see the majestic presence of a basilica that I have seen for decades on TV, news, and in textbooks. It was so impactful that some tears of joy came out while entering it for the very first time. Seeing Michelangelo's Pieta and St. John Paul II's tomb were definitely my highlights. JPII is one of the patron saints of the Rome Experience and probably one of the most influential popes of the last centuries. So seeing and praying at his tomb was more than inspiring.
On Thursday, we came back to St. Peter's Basilica for Mass at the crypt of St. Peter. We woke up early and had an early breakfast to beat the crowd and get some meditation done before Mass. The second time coming to St. Peter's was as impactful as the first time – so much to absorb from centuries of history and so much grace given by the saints buried there. Mass started promptly at 8:15 am. The altar and pews are in front of St. Peter's bones, so we powerfully prayed the Mass while looking at St. Peter. No doubt that he is also praying for us! Fr. Jacob gave an excellent homily and encouraged us, seminarians, to "not be afraid." To follow the example of St. Peter and JPII.
After this powerful experience, we visited the Roman Curia and the Congregation for Clergy. They were so happy to receive us and explain their duty and the importance of their job for the Universal Church. As a result, we were inspired to become holy priests – desperately needed in a world that seems to become more secularized by the second.
After these two visits, we went on the SCAVI tour. This tour brought us into the lower levels of St. Peter's Basilica and guided us through the excavation made by Pius XII. Incredibly impactful as we saw a magnificent discovery of the underground city which located St. Peter's bones which, as tradition has always stated, were buried right below the altar of the original basilica. Seeing St. Peter's bones was intense, inspiring, and overwhelming. In addition, we got to spend some time in prayer reflecting on St. Peter, that he is our first pope, and on all the popes that came after him.
The next day, Friday, we visited St. Paul Outside the Walls. Another overwhelming experience in a majestic basilica. St. Paul has been crucial in my spiritual life, and seeing his bones and the chain that held him while in prison brought me deep into reflection on the importance of the Apostles. They gave everything for Christ, and as they did, I am called to do the same!
After St. Paul's Basilica tour, Cardinal Harvey hosted us for lunch. He truly is a servant leader as he served us food and drink. We had a great conversation at lunch, and his love for the priesthood is evident. He is an ambassador of Christ who has laid down his life for the Church.
It is truly a blessing to be part of the Rome Experience. We are a great group of guys, receiving with open hearts all the blessings that Jesus is giving us this summer.
Praise be Jesus Christ, now and forever!
David Jaramillo
Diocese of Madison